Pipistrel - The Freedom of Flying
Travel with 270 km/h, Glide with ratio 40:1, Train at lowest cost
Join the Movement towards a Cleaner Environment - enjoying the Freedom to Fly safe and secure
Contact Us
Arrange Test Flight
---
Safety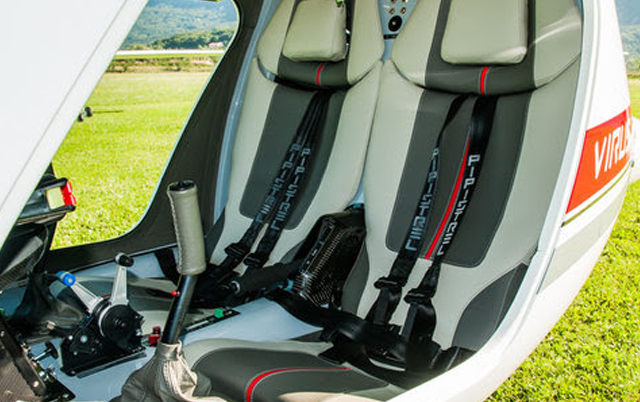 Pipistrel's Gliders and Aircraft have high safety standards.
All engineering work and testing of the aircraft is carried out at Pipistrel premises in Ajdovščina, Slovenia under supervision of CAA of Republic of Slovenia. This separates Pipistrel from most other producers, because all design, production and testing is directly monitored by the CAA, ensuring accuracy of data. Before its introduction to the market of the Virus SW for example, more than a year of ground structural and vibration tests went by without a glitch, followed by an extensive flight test program with more than 100 hours cumulative tests.
With a turbulence penetration speed (green arc) of 250 km/h (135 kts) and the VNE of 302 km/h (163 kts), you can take advantage of high-speed cruise even in strong turbulence in the Virus SW. The cockpit remains quiet and comfortable throughout the flight! The Virus SW 80/100 has the largest flight safety margins in its category.
The Virus SW is just the latest example of the safety build into the aircraft's from Pipistrel. The Alpha Trainer, Alpha Electric (WATTsUP) and the Panthera is build on this same base.
Another thing that is really great about Pipistrel is that all aircraft's can be equipped with the total rescue parachute system, deploy-able even at maximum speeds and close to the terrain. You remain safe even in an emergency !
---
Quality
Pipistrel have very high quality standards. The materials are chosen based on high quality and ability to last long and have a low maintenance. Pipistrel have made many inventions to ensure this - for example the application of Exterior Paint:
The paint used is a special acrylic based pigment, which is applied already during the molding process. Pipistrel airplanes are not after-painted like most other airplanes - instead, paint is applied onto/into the structure while molding. This makes the paint much more durable and resistant to UV light and environmental contaminants.
Award winning performance
Pipistrel aircraft have won several big awards through the years. The Sinus motor glider won the World Air Games 2001 in Spain also the World championship 2001 in the ULM class AL2.
In 2007 the Virus won 5 out of 7 prices in the NASA CAFE PAV world challenges - winning the categories of "best overall", best miles per gallon, 2nd price in top speed, and winning the efficiency and shortests runway prices.
In 2008 the Virus was again the big winner of the NASA General Aviation Technology Challenge.
In 2011 the Pipistrel Taurus G4 won the NASA Green Flight Challenge proving that electric aircraft have indeed a future !
All these achievements and prices speak for themselves - with any of Pipistrels aircraft, you will be sure to have the top in its class !
---
Sustainability
Our aircraft are a statement of our long-time philosophy that you can achieve remarkable feats without wasting energy and polluting the environment.
Flying a Pipistrel aircraft, you reduce the pollution to a minimum: Either by going full electric or by using as little mogas as possible. All Pipistrel aircraft use engines that run on automotive gasoline, normal 92 octane led free gasoline - cheaper and a lot less polluting than the led containing avgas (100LL).
Sustainable production
Every aircraft is designed, manufactured and perfected in our state-of-the-art, energetically self-sufficient facility at Ajdovscina, Slovenia. Using geothermal and solar energy to power the whole production process, we are able to spare the environment 180.000 kilograms of CO2 emissions every year.
Our Ecolution campaign represents Pipistrel's mission to show the World that eco-friendly, high-technology products are in fact possible and available today !
By owning a Pipistrel you will contribute to a better and cleaner World !